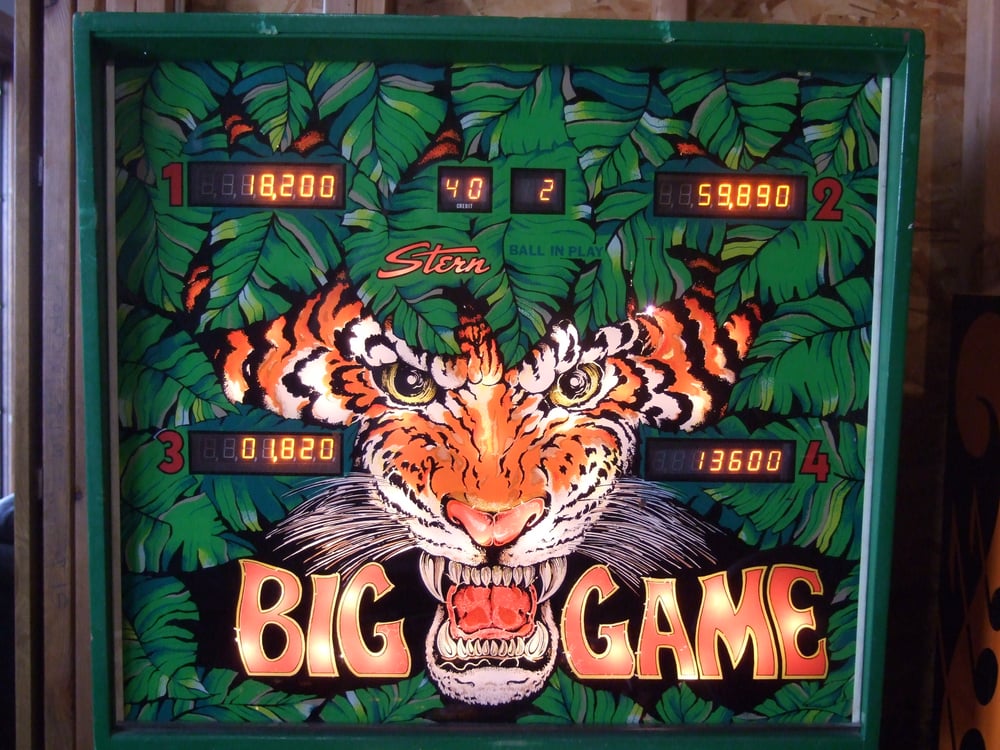 Welcome to our website
If you have a pinball machine that doesn't work and you want to get it up and running, give us a call.

I no longer do in home repairs but we can help you get your game back into working condition.

If you decide you want to sell your game, give us a call. We will let you know what your game is worth in very good working condition and what we would pay for it "as is". I pay cash and will come to your home and pick it up.
Questions?
Call Dale (509) 994-0328
Game For Sale:
1980 Bally Viking
Price: SOLD!

Note: To get a better look at the game condition, click on the pictures below
Overall Condition


Four player game in overall very good condition. Everything was cleaned from top to bottom. The playfield was waxed. New rubber rings installed. All the lamps have been replaced with the cooler burning #47 lamps. The game plays well with strong rebuilt flippers. All five circuit boards are new. See list below.
Backglass

The backglass is in overall excellent condition. There is some very minor paint scraping where the lift rail meets the backglass. The score displays are bright, no missing segments.
Top Playfield
Overall very good condition. The playfield mylar lifted around the top right orbit. That section of mylar was removed, the orbit area was cleaned and waxed. It does not effect gameplay. The game has four in-line drop targets on the left and a three bank drop target on the right. All four pop bumper caps are new. The plastics are in excellent shape.


Bottom Playfield

Overall very good condition with some playfield paint loss around the exit area. Excellent playfield plastics. Original instruction and score cards. I have new replacement cards if desired. All the playfield plastic acorn nuts (connectors) are new.
Right Cabinet

Overall good condition with several scrapes, scratches and areas of paint loss. Legs are in very good shape.
Left Cabinet
Overall good condition with several scrapes, scratches and areas of paint loss. The top glass is in overall good shape but there are some minor scratches in the glass.
Coin Door
New locks installed in the front and back. The coin mechs are installed but are inoperable. Game is set to free play. Includes original owner's manual.
Game boards
All the game boards are new:
- Alltek Ultimate MPU
- Alltek Ultimate Solenoid Driver Board
- Alltek Ultimate Lamp Driver Board
- NVRAM Sound Board
- Gulf Pinball Rectifier Board


GAMES WE ARE CURRENTLY WORKING ON
1972 GOTTLIEB WILD LIFE
Ready by late December
1953 WILLIAMS
BASEBALL DELUXE
Ready by early December
1975 GOTTLIEB
EL DORADO
Ready by late November
1988 Williams Jokerz!
Ready by late November