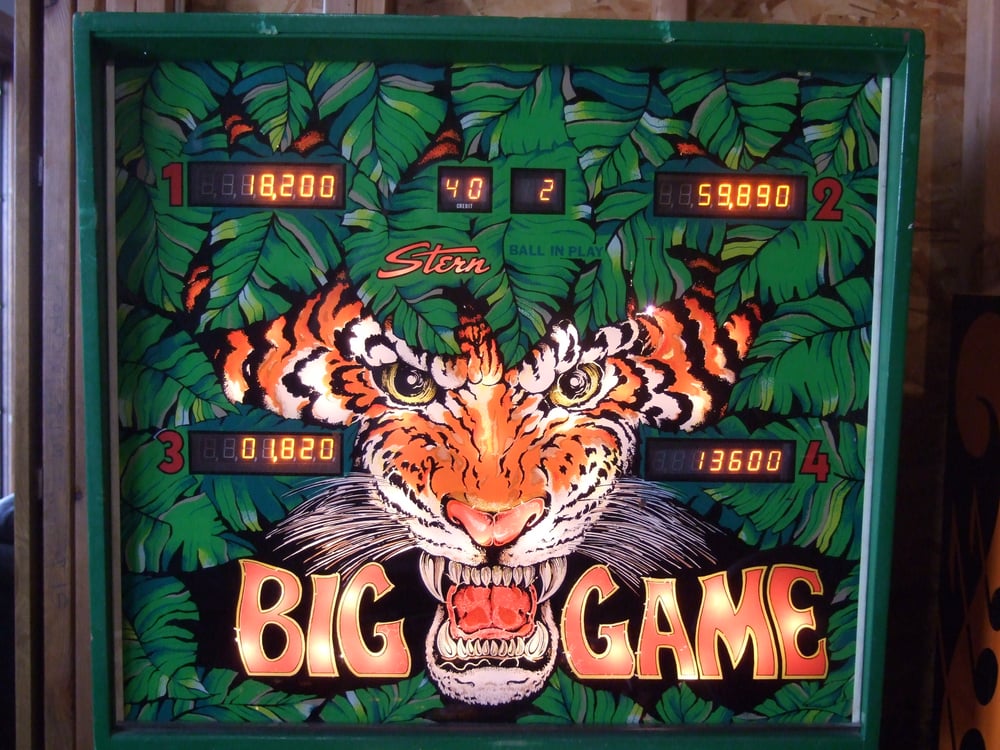 Welcome to our website
If you have a pinball machine that doesn't work and you want to get it up and running, give us a call.

I no longer do in home repairs but we can help you get your game back into working condition.

If you decide you want to sell your game, give us a call. We will let you know what your game is worth in very good working condition and what we would pay for it "as is". I pay cash and will come to your home and pick it up.
Questions?
Call Dale (509) 994-0328
Upcoming Game For Sale
1952 Chicago Coin Big Hit
Price: TBD
This is the next game we have coming up for sale. It is from the really early days of flipper pinball and has a great baseball theme.
If you see a game you like, give us a call to come by and check it out (509) 994-0328.
As an added bonus, you'll get to meet our big, friendly, Newfoundland, Bernie!
Overall Playfield
The playfield was cleaned and waxed. It is in very good condition with some wear around the pop bumpers and by the left kicker. The game has all new rubber rings and all new #47 bulbs.
Backglass
The backglass is in very good to excellent condition. All the backglass bulbs were replaced with the cooler burning #47 bulbs.
Upper Playfield
The pop bumpers and Home Run features are all working great. The playfield plastics are in good to very good condition.
Lower Playfield
The flippers are unique single activated mechanisms. The game has all original score cards.
Cabinet
The cabinet is in very good physical condition but the there are a lot of scratches and scrapes.
Legs
The legs are all original wooden legs in very good to excellent condition.
No kids allowed!
Back in 1952 it was illegal for minors to play pinball! Check out the warning on the game card.
No betting!
Back in 1952 they also warned against betting on pinball!